Nine Things To Know About Painting Your Stucco House
Stucco homes are a common sight in many neighborhoods, but that doesn't mean that
they're popular. In fact, many people - maybe even you - view stucco as an eyesore that
you'd love to get rid of. Well, it may surprise you to learn that you can refresh your stucco
with a new paint job - as long as the painters know what they're doing! Here at Painters
Enterprise, we believe that our paint jobs shouldn't just change the color of your house - they
should change how you feel about your home as well. And we're willing to work with you to
discover the perfect look and feel for your space.
Now read on to learn nine important facts about painting over stucco!
1. All types of stucco can be painted
There are three main types of stucco and all three can be painted to your exact specifications.
Whether you have EIFS (Exterior Insulation and Finish System) stucco, one coat stucco, or
three coat stucco, we'll be able to ensure that your home is professionally painted.
2. There are specific types of paint that get the job done
Stucco walls often sport hairline cracks and other issues that can make getting a clean,
smooth paint job difficult. At Painters Enterprise, we use the best materials for painting over
stucco cracks. These include paints (like Elastomeric paint) that bond well with stucco and
fill in those cracks that would otherwise mar the paint job. Some of these paints may be
more expensive than different brands, but the quality you get is more than worth it.
Additionally, one hundred percent acrylic paint also has great, no-fail results if you want to
go the less expensive route.
3. Protection of property is important when painting stucco
All furniture, windows, doors, and other areas of the house should be covered and masked by
paper and plastic before any painting is done. When you hire Painters Enterprise, we take
care of that for you and, additionally, we will strive to protect plants and other greenery
when we are painting stucco outside. No one wants their lawn or house messed with when
renovation/painting work is being done, so we work hard to prevent that.
4. Painting a stucco wall isn't easy
At Painters Enterprise, we want to give you the best possible service - no matter how easy or
hard the job. Painting stucco isn't as simple as painting other types of surfaces because
stucco is designed to absorb any kind of moisture...and that makes getting a smooth, even,
non-splotchy coat of paint difficult.
But that doesn't make painting stucco impossible! It simply means that it might take us a
little longer because we want to make sure you get a great finished product. Additionally,
this means that you probably won't want to attempt a stucco paint job yourself (unless you're
a painting industry professional in your own right) because getting it perfect is harder than
you might think.
5. We may need to caulk your stucco walls
Painting stucco cracks, particularly the finer ones, can be done with good paint (see #2)...but
sometimes there's a deeper issue at work. This can be especially true of older stucco, where
the structure has been subjected to a lot of wear and tear - and not a lot of maintenance. And
that's where caulking your stucco walls comes in.
We'll use the best possible caulking. This can include caulking materials with added sand so
that the filled-in cracks look more like the original stucco, giving a smoother, more uniform
appearance.
6. Painting stucco is a many-step process
Stucco has many unique qualities, some of which we've discussed above. At Painters
Enterprise, we aren't satisfied with applying one coat of paint and calling it good. To achieve
optimal results, we paint stucco with a roller and paint in layers to make sure that every part
of stucco's porous surface is covered with plenty of paint.
We aren't satisfied with a tacky, spotty paint job. We are proud of our work and we want you
to be as well.
7. A lot of paint is used when covering up stucco
Getting your stucco painted is almost always more expensive than other types of paint jobs
for two reasons: the amount of time needed to ensure that the job looks good, and the
amount of paint needed (for the same reason). Stucco is a unique surface that requires a lot
of paint to make it look its best.
Since there are so many tiny cracks and valleys in stucco, you need extra paint to fill all of
those. Then you'll need to allow time for the paint to absorb into the stucco and then apply
even more paint to create a clean, even surface over the entire wall (or walls). Yes, it isn't
quick or cheap to have your stucco painted over - but it is worth it.
8. Stucco needs to be cleaned before the paint can be applied
Before we apply even one coat of paint to your stucco, we'll take care to wash the surface
thoroughly. This is important because, while painting stucco is hard enough, trying to get
the paint to stay on dirty stucco is ten times harder. Even the slightest amount of dirt, mold,
or mildew on stucco can make the entire paint job look bad.
After power washing the wall, we'll wait for it to fully dry before applying any paint. We want
to ensure that nothing interferes with getting a great look for your stucco walls.
9. Painted stucco walls will need to be maintained
Now, this doesn't mean that you need to be worried about keeping your walls looking perfect
at all times. A bit of fading, some wear and tear are natural and to be expected. However, a great stucco paint job can last for up to fifteen years.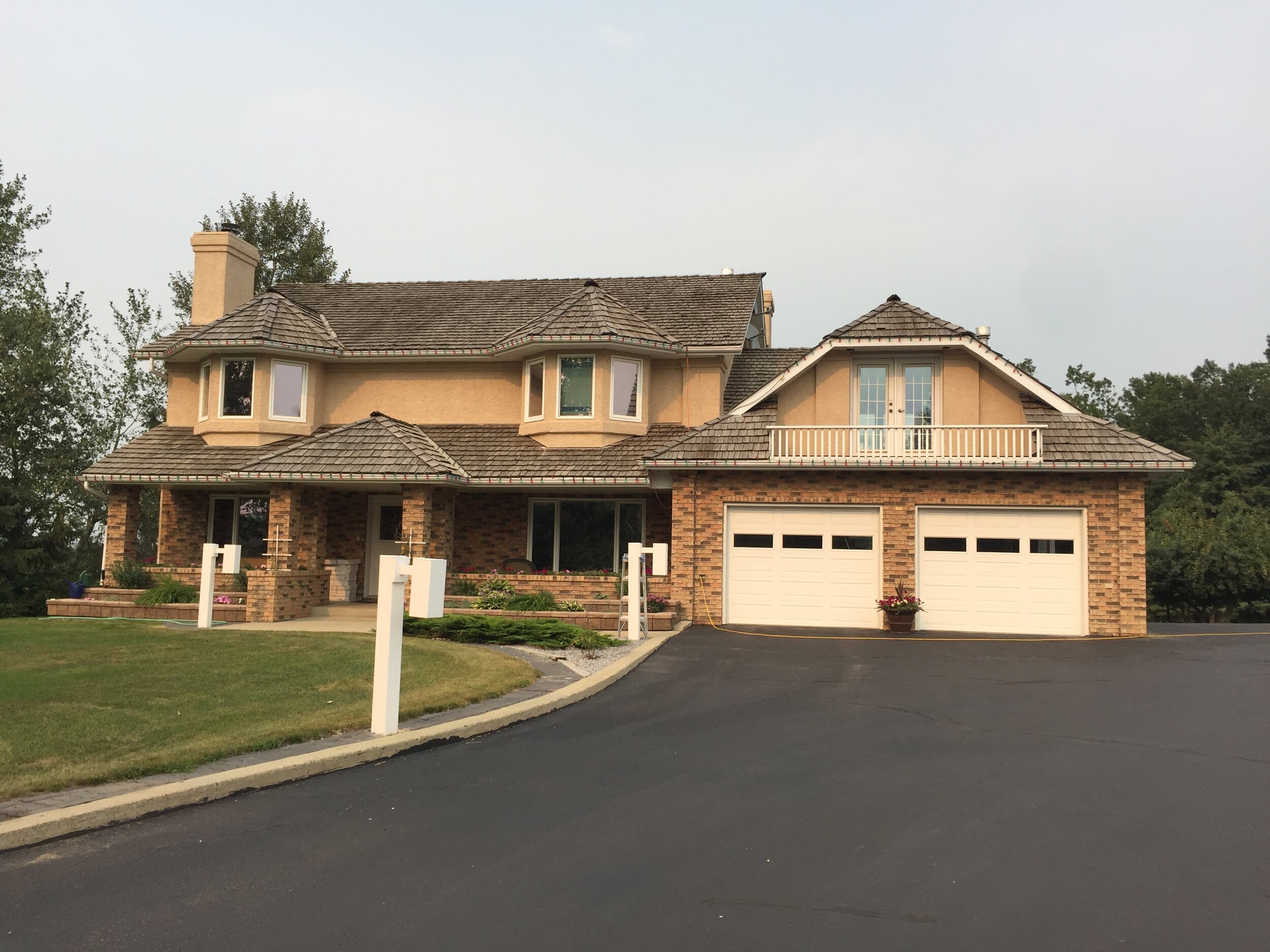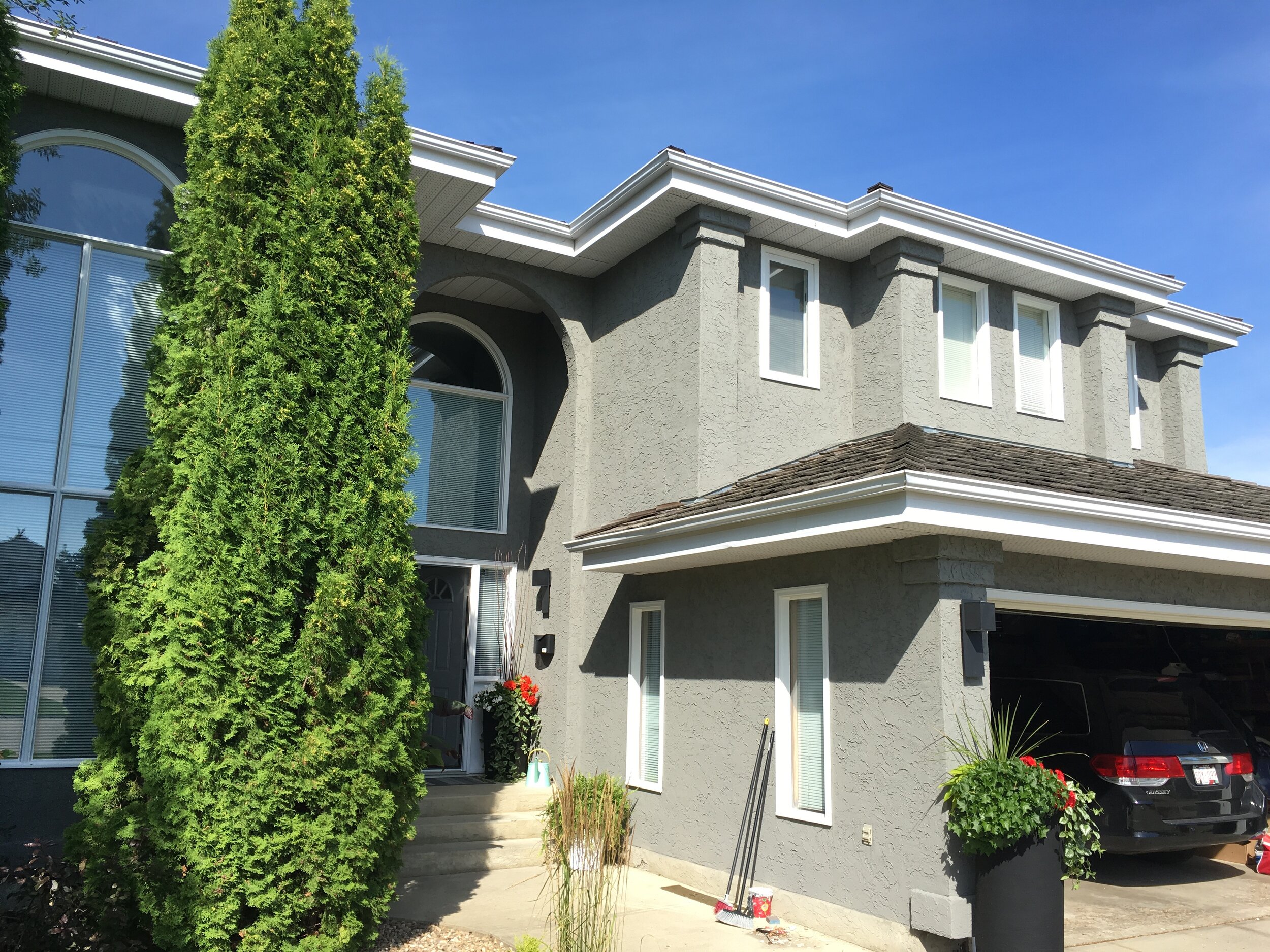 The change you can make on your home when you paint your stucco can be an amazing change. What is even more, is the way you will feel about your home.

So if you have stucco walls that are in need of some freshening, give us a call! We'll be happy to offer you a consultation and an estimate.